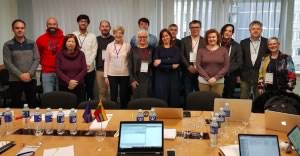 The researchers and coordinators of the SCHOOLS21C project met for the first time in Vilnius, Lithuania, at the Kick-off meeting of "Schools for 21ST Century" on November 10th and 20th.
With this event starts the new European project KA2 ("Cooperation for innovation and the Exchange of good practices") coordinated by the professors Beatriz Cebreiro and Carmen Fernandez-Morante.
Seven institutions are participating in this consortium, including research centres, public bodies in charge of educational management in their territories, public schools and private companies such as the National Agency for Education of Lithuania, Radio Coruña-Onda Cero, the Galician-Cessian Supercomputing Centre, the Scuola Secondaria di Primo Grado A Criscuolo, the CPI-O Cruce and the Agrupamento de Escolas de Barcelos, and the University of Santiago as coordinating institution through its educational technology group "Tecnoeduc".